Epic Universe will be a new theme park opening in Universal Orlando Resort (joining the existing parks Universal Studios Florida, Islands of Adventure and Volcano Bay). It will be Universal's biggest theme park so far and is scheduled to open in the summer of 2025. 
Some extremely exciting news that I don't see talked about amongst Wizarding World fans as much as you would expect, is that there will be ANOTHER Wizarding World themed land in this new Epic Universe. Currently, there is a Hogsmeade (in Islands of Adventure) and a Diagon Alley (in Universal Studios Florida) in the Orlando resort (the ones in Hollywood, Tokyo, Beijing only feature Hogsmeade). This new land will include an entire British Ministry of Magic with an indoor ride rumored to be named 'Battle of the Ministry of Magic'. It is rumored on the ride that Umbridge has joined forces with Death Eaters to escape her trail set after the events of Deathly Hallows. It will include the atrium and, whilst walking through the ride queue, we will also most likely be able to see several different offices including Umbridge's.
Even though there is a British Ministry of Magic, the land will actually be set in Wizarding France from Crimes of Grindelwald (the story is that we will be able to get to the British Ministry using the Floo network). The current rumours are that we will most likely enter through the Port Saint Dennis Arch from Paris, and we will see the Wizarding Street of Paris set up similarly to Diagon Alley, with French Wizarding shops and 2 different dining areas. It will even feature the French counterpart to Ollivanders,
'
Baguettes Mgiques de Cosme Acajor' 
(with new triangular shaped wand boxes). There will also be different magical creatures roaming around the street and potentially a new generation of interactive wands that will allow us to directly interact with the creatures. At the end of the street, there will be a Circus Arcanus which we can enter and there will be a live show (seating 642 people), however we don't actually know much about the contents of the show (but I'm hoping for a show with various different magical creatures with cool animatronics). There was even a rumoured third VR attraction where we would explore the French Ministry however that was cancelled (probably due to the VR experience that was opened in the New York store). But the area still remains and there is potential for further expansion to Wizarding France.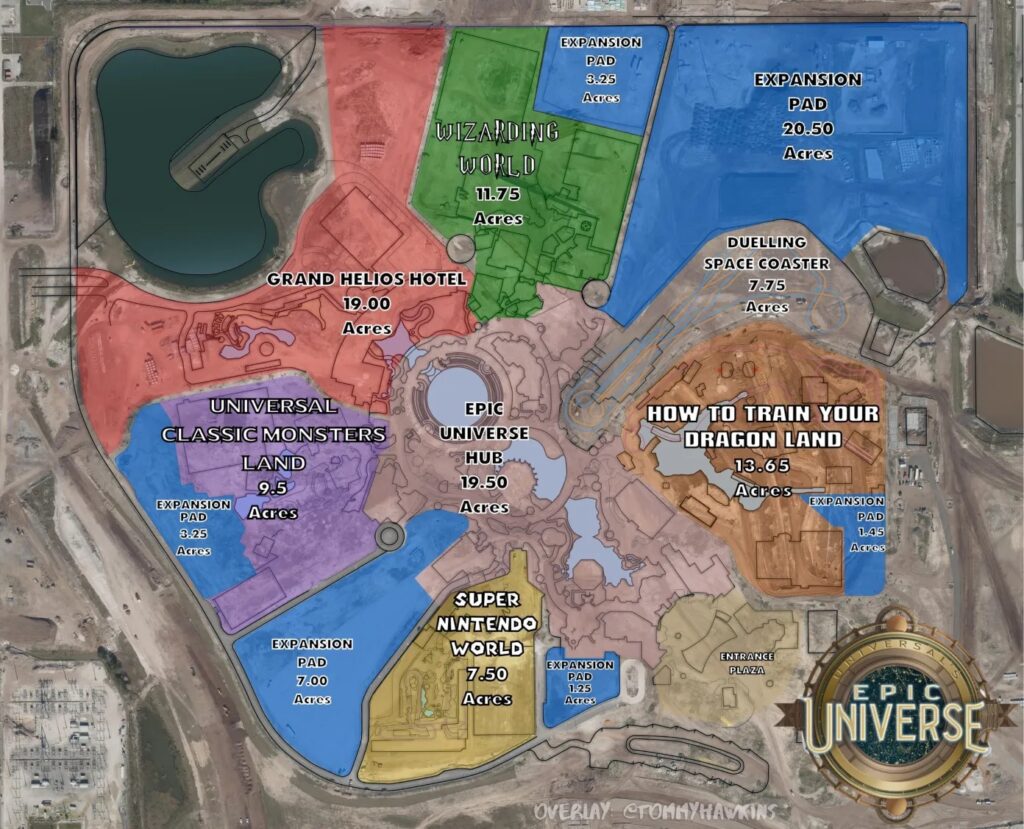 (The size of the new land is 12 acres, for context Hogsmeade, which includes Hogwarts, is 20 acres)
Currently, there exists a Hogwarts Express that takes us to and from Hogsmeade, in Islands of Adventure, and Diagon Alley, in Universal Studios Florida. Could we get a similar Wizarding World themed mode of transport to get to the Wizarding World land in Epic Universe? The Knight Bus would be nice, and just like the windows of the Hogwarts Express we could see streets zooming past us in the Knight Bus windows as well. Maybe we could get something Fantastic Beasts themed but I can't think of anything that could work.
I am also excited for the all the potential promotion we could get from this new land, could we see the Fantastic Beasts cast back together again? Like we saw for the HP cast in
2010 for the grand opening of the first Wizarding World
. My dream would be to see both Daniel Radcliffe, who could walk us through the British Ministry of Magic, and Eddie Redmayne walking us through the Parisian streets (Have we ever seen these two together?). We even got some of the
cast together at the 2014 red carpet opening of Diagon Alley
, so I definitely think we will get something for this.   
Hopefully with this new Fantastic Beasts expansion Warner Bros. will be more inclined to finish off the series. With this new theme park, the new Studio Tour in Tokyo, the
new Harry Potter land in Warner Bros World in Abu Dhabi
 and the success of Hogwarts Legacy it definitely seems like
we are winning
 the downfall of the Wizarding World.
Credits go to Theme Park Stop, they do extensive research and regularly post videos and construction updates
Link to channel
Link to Wizarding world video
Link to how big epic universe is video
(P.S. @patricio Maybe you could talk about this in the next Rowling Library Issue as not many people in the Wizarding World fanbase seem to be aware of this)